Shaw takes LVT offering to the next level with Floorté
NOW AVAILABLE AT FINAL TOUCH FLOORING GROUP.
While luxury vinyl tile remains the fastest growing flooring category, it does have its challenges – namely temperature change and moisture. But
Shaw
has come up with a newly engineered Enhanced Vinyl Plank (EVP) that repels moisture with zero need for acclimation.
Similar to that of a wood plastic composite,
Shaw
reported that its new line, Floorté, is a different composition of resins that incorporates a new locking system, making the floor completely waterproof.
The LVT category has been booming with new technologies. In 2013, USFloors introduced a WPC plank utilizing a cork backing.
Shaw
's director of hard surface marketing, Natalie Cady, explained that with Floorté's EVP, an underlayment is not necessary.
"With our rigid Lifeguard Core, you can simply fold, tap and walk away with little to no subfloor preparation necessary. Not only is the plank itself waterproof, but water can sit on the 'fold n tap' seams and joints for 48 hours and remain completely unaffected," she said, noting that the walls and subfloors of the installation are excluded from the waterproof guarantee.
Cady, along with other members of
Shaw
's hard surface team, showed
FCW
an exclusive first-hand example of just how capable Floorté's planks perform. Submerged in a tank of water for over 10 days, Floorté could be simply wiped dry with a cloth and ready for installation.
Besides introducing a completely waterproof system with Floorté,
Shaw
also addresses another challenge met with traditional LVT: acclimation. According to Clark Hodgkins, resilient category manager at
Shaw
, Floorté is able to go from 55 degrees to 85 degrees without growing or shrinking due to changes in temperature.
"Although you can't beat science, we have enhanced the vinyl with various resins to allow it to hold shape in different temperatures," Hodgkins said. "Installers can take it out of their van and put it directly onto the ground with zero acclimation. With traditional LVT it could take hours to properly acclimate the product. So while the consumer might not be affected by that factor, this saves a lot of time for the team on the ground installing."
Focus on color and design
Floorté comes in two different collections, Classico and Premio. Classico comes with a 12mil wearlayer and is introduced with 14 different colors, while Premio has a 20mil wearlayer and comes in 13 different colors. According to Sandi Ownby,
Shaw
's hard surface design manager, this many new SKUs allowed
Shaw
to target a variety of different trends in hardwood.
"We are hitting as many different customer tastes as possible with these initial introductions. All are intentionally selected," Ownby explained. "For that reason, we have some exotic looking olives, some traditional exotics, grays with muted dark tones, even a visual that looks like a 200-year-old Italian door with watermarks and aging. On our first release to dealers we came out with several dark tones, so we decided to add lighter tones."
Hodgkins explained that because Floorté is a more rigid product than traditional LVT, it looks and feels more like a real wood floor. "Sometimes when LVT is installed, the realism of the print gets lost on the ground. This product fixes that issue with a bevel that makes it look even more realistic," he said, adding that the price point of Floorté will be slightly higher than traditional LVT but less than hardwood prices.
And as
Shaw
continues its quest to have a larger presence in the LVT market, Hodgkins believes Floorté has the potential to be revolutionary for the company and the market alike.
"We feel very good about this product and the affect it will have in the marketplace. It's something our dealers have been asking for and early reviews have been extremely well received," he said.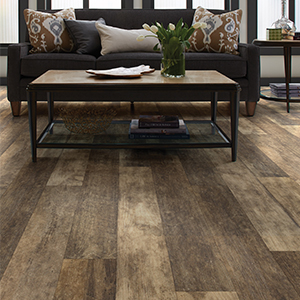 Shaw
Floorté in Premio Novella